Heirloom Tips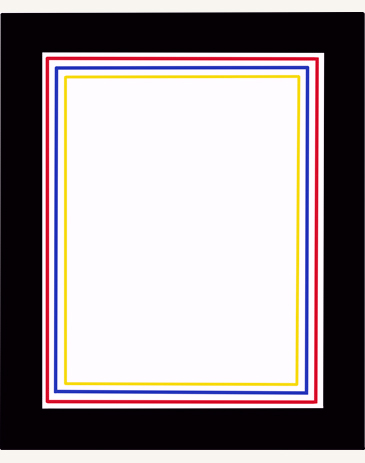 How to choose your mat openings
When choosing your mat, measure your opening carefully so your image will not fall through. When ordering online take into consideration how much of the image you can afford to cover and how stable you image will be if you do not cover enough.
The opening size, or inner size to order, or 'The Reveal' is always the inner opening or the inside whole in your mat, the area that the image will be able to show through.
The example above can give you an idea as how to order for your
' Reveal', or the actual opening size of the mat. The Red is a standard 3/16 reveal which will cover your image 3/16 all around giving you an opening of 7 5/8 by 9 5/8 inches. The blue line shows 1/4 inch with the opening 1/2 inch larger top and bottom giving a 1/4 inch coverage all around of your image. The Yellow opening has 5/16 all around leaving an opening of 7 3/8 x 9 3/8 inch opening.
An 8 x 10 image with a 1/4 inch reveal will have an opening size of 7 1/2 inches by 9 1/2 inches. Now you need to consider the size of frame you would like to put your image in as this is the outside measurement for your mat.
An 11 x 14 standard size frame for an 8 x 10 image with a 1/4 inch reveal will have, if your opening is centered, will have a matting with 2 1/4 on top and bottom, while only 1 3/4 on each side. Up to 1/4 on all sides (loosing 1/2 inch top and bottom) will be covered by the frame.
.
Double & Triple Matting
Always remember your outside measurements when adding more mats. Every measurement will double as with the top/bottom and left/right openings. With the example above for an 8 x 10 image with 1/4 inch reveal, giving you an opening of 7 1/2 x 9 1/2, to ad a second mat with a 1/4 inch reveal, showing 1/4 inch all around of the bottom mat, you now lose this new 1/2 inch. With your standard 11 x 14 inch frame, you now have only 1 3/4 on the top and bottom and 1 1/4 on each side showing of matting. You would be best to go to a larger frame to show off the two mats.
If you would be interested in a no-obligation quote, e-mail us a copy of your image, let us know what you might require to be performed. We will reply within 24 hours with a no obligation quote.
Please enclose your City & postal/Zip code if you would like a shipping quote added . Include your area code and phone number if you have any special instructions and would like us to call.
All images on site are
© copyright 2008
Heirloom Photography